Your E-Book Download
You've been arrested for DUI? Now what?
Schedule Your Free Criminal Defense Consultation Today
Thank You For Requesting Your Copy Of The Ultimate Guide To Dui Cases In Knoxville And East Tennessee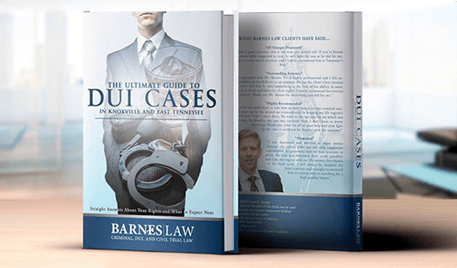 Your PDF copy is being delivered to your email address now. PLEASE BE SURE TO CHECK YOUR SPAM FOLDER if you do not see an email from us.
If you'd like more information or to have your questions answered by an attorney, give us a call at (865) 234-0410.
Schedule Your Free Criminal Defense Consultation Today
"John is amazing not only did he get the outcome he promised he did it in a shorter time than he originally said. He went above and beyond in returning my emails and phone calls. John and staff truly cared about me as a person. I highly recommend John Barnes."
"I would highly recommend Mr. Barnes to everyone & I would definitely contact Mr. Barnes if I or anyone in my family should ever need an attorney again:) They were all very professional, friendly & treated our case with importance:) Mr.Barnes got my son's DUI dropped to reckless driving so I would definitely recommend him to everyone!!!!!!!"
"Mr. Barnes and his staff are amazing. I can't imagine anyone doing a better job with my case. At no point in the long process was I disappointed in any way with how things were handled."